Hello,
All my efforts trying to get a decent peripheral for video-capture have failed, what's left in local inventories dates back to Windows 7 while i got an impression that although Linux could offer useful product/vendor id information it's still not going to be a friendly ride. But yet if it did then i'll bet this might give me the edge required to gain stability and reliability never really available under Win10 and not even after switching to its 64-bits "Pro" version run on a table-PC with i3 processor...
The image below confirms poor hardware performance of Roxio's "easy" VHS transfer kit, on top of being forced to pass sound through my i3's own Line-In connector: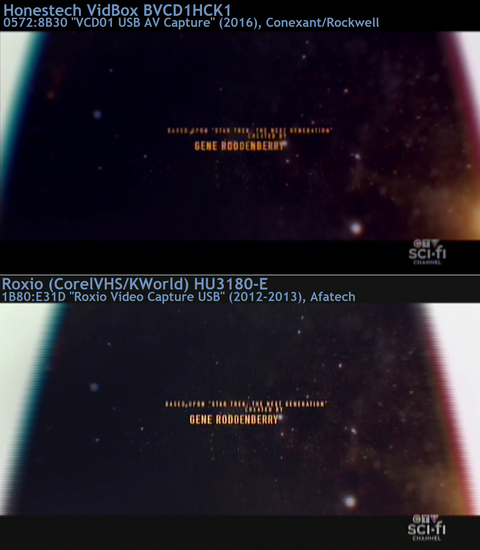 Both USB adaptors worked with DScaller v4.2.2.0 as a Direct3D media, VLC may be fine too but i never managed to find some proper configuration. My hope was that the later application should have detected these capture peripherals under Linux but i now fear it never will. Bottom line is the Linux users are probably better just to avoid any such purchase, as for the Win10 ones simple still-image extraction could make sense, otherwise expect video defects - which is bad enough when the initial purpose was to "save" old VHS souvenirs by digitizing them...
On the bright side i can still accept low-res cable-TV restrictions if dealing with the tiny screen of my 11.6" tablet, too bad though i can't even rely on its internal BlueTooth for support of wireless earphones as that often crashes Windows and then requires a complete reboot, hence my wish for Linux options instead.
Anyway beware not to approach unless it's done with extreme care: looking at driver dates alone i've rapidly concluded that was OBSOLETE Windows-ONLY junk!