Contributor

Posts: 6431
Joined: 28 Dec 2010, 14:25
Distribution: xfce plank porteus nemesis
Location: Le printemps, le printemps, le printemps... ... l'hiver s'essoufle.
If you want to understand installing gimp thru slackyd which is a very good thing, continue to follow the instrructions of hamza and wread. You will surely have positive results, though with some work and sweat.
Until then if you simply want a functional version of gimp 2.8.6

use this module (for 32bit porteus):
http://www1.datafilehost.com/d/c7e01271
This module was built by Don570 and posted on the 13th of july 2013:
http://forum.porteus.org/viewtopic.php?f=51&t=2316
Sorry the module is not functional presently.

However, I have asked Don to have a look at it.

Last edited by
francois
on 27 Jul 2013, 03:44, edited 1 time in total.
Prendre son temps, profiter de celui qui passe.
---
francois
Module Guard

Posts: 1255
Joined: 09 Jan 2011, 18:48
Distribution: Porteus v5.0-kde-64 bits
Location: Santo Domingo
Contact:
@AndyInMokum
I don't know what you are doing wrong.
I just downloaded the files I offered in my second post, put them in modules, clicked on the all and started this machine and loaded a file (my picture)......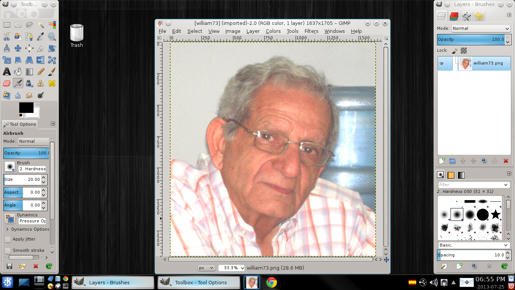 It works out of the box! Do s I said and you wont miss it!
Regards!
Porteus is proud of the FASTEST KDE ever made.....(take akonadi, nepomuk and soprano out and you will have a decent OS).
The Porteus Community never sleeps!
---
wread