Razor is a newly introduced desktop environment, in development by the Qt team. I read the reviews, and experimented with it. this is how it looks: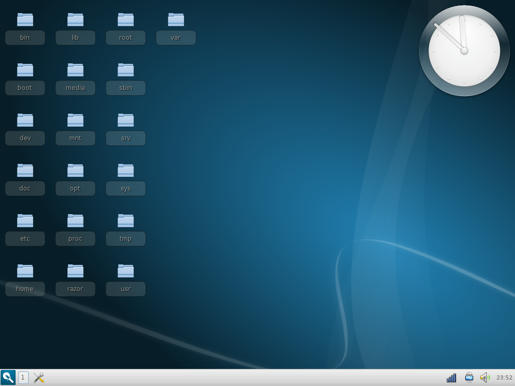 Main feature is the use of the power of, for instance, KDE4 applications without the penalty of bloating Akonadi and/or Nepomuk. It still lacks of language and keyboard selection tools. Size is only 6.9 MB!
I downloaded version 0.5.0, compiled it and added Porteus stuff to hang it in my system as 003-razorqt.xzm module (I took out 003-lxde.xzm years ago). A patch to modify rc.M in 001-core is necessary as well as a modified porteus.cfg in /boot.
For those of you who want to experiment with it, I will post my files here.
http://www.mediafire.com/?1y7pj785i22bp
It has no splash screen, so when it comes up, you will get a black screen during about a minute before the cursor arrow comes to live and you know it is working! I am using it right now.....
Enjoy!