MD5sum calulation and check with xclip
EDIT: WARNING !! This method doesn't work correctly.
because Thunar keeps an icon focused and selected

Therefore clipboard info can't be tranferred to program
Available here as two modules in one archive. Uncompress please
and install both modules. A re-login is sometimes necessary
to get the text to show in the SendTo menu.
http://www.datafilehost.com/download-ee584edd.html
The following is a method of MD5sum calculation as well as
checking. It is meant to replace bigger software that does the same thing.
It has been internationalized with locals.
Instructions for MD5sum calulation : Right click on a file
Instructions for checking MD5sum of downloaded file:
Download sites often have the MD5sum listed. Just highlite this
sum or copy it to the clipboard.
Then rightclick on a downloaded file and choose the 'Clipboard MD5sum check'
A message will say either 'Success' or 'Failure'. Failure means you
will have to download the file again.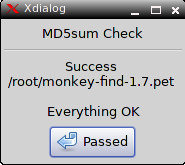 ___________________________________________________________________________