Hi,
I would like to use porteus 4.0 to a mini PC Igel. actually running Linux IGEL-00E0C534FB44 3.13.11-ckt20 #54.91-ud-r1292 SMP 2015-05-27 14:49 UTC i686 i686 i686 GNU/Linux
Witch ahave following hardware
So I downloaded i586 porteus xfce (because i686 can run i586 and i486 but i586 is most recent. (whatever it is 32 bits so every computer can run it.))
Extract iso and copy to the root of a fat32 usb key
then run Porteus installer for linux.
I ran the 32 bits installer from the 32 bits OS based on linux for the 32 bits Porteus installation
But When I try to reboot to this USB from Igel, Syslinux stucks at this screen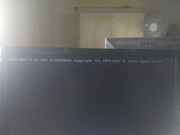 instead of showing the Porteus.cfg menu.
I never had this problem with the same computer with Porteus 3.1 cannot remember if it was a 64 bits but whatever (witch I lost the Key), With full 64 bits way for ortus 4.0, I stuck with same message on Igel Computer
What is strange is that any HP PC or My personnal laptop boot succesfull to Porteus untile the Desktop display. And on Igel, The last Syslinux given with porteus 4.0 is not abble to show Porteus.cfg 's boot menu.
What Im I suppose to do to be abble to run Porteus 4.0 on Igel please?
Please don't tell me about boot flag: Other PC can boot this Porteus, and Gparted doesn't let me to change flag because there is only one partition named /dev/sdb
If I have choose wrong iX86, can you explain me why? (what is different between i486 and i586)
Cheers