The Create New File function in make-changes from RC1 works in RC2 thought the window is a little wide.

Added in 13 hours 46 minutes 12 seconds:
RC2 eats batteries when the lid is closed on my notebook. Battery 100% before going to bed, ~1% when I get up and I have to reboot to get back to Porteus.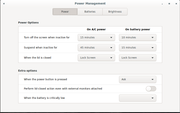 Added in 3 hours 40 minutes 9 seconds:
.Trash-1000

And found.000

On my
NTFS
drive.

Inside the .Trash folder are two folders;
files
and
info
. Inside
files
folder are all the 5.0 rc files I had been testing with and deleted the other day using 5.0 RC2. Inside the
info
folder are *.trashinfo files, one for each file in the
files
folder, stating the original location of the deleted file and the date it was deleted.
Why is 5.0 RC2 creating Trash folders on Windows drives???